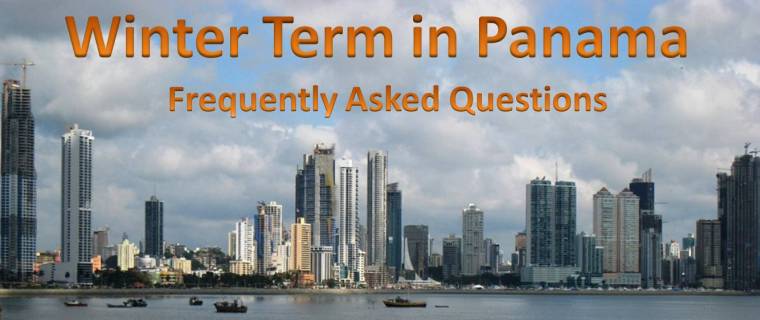 The answers to the questions are from Dr. Lawrence Burgee who has taught courses in Panama for several years.
Do I need a passport?
Yes. Panama is a foreign country and requires a passport for entry and exit. While in Panama, you should carry your passport with you at all times. You may need to show it as identification for travel and to prove that you are at least 18 years old if entering establishments where alcohol is served. You must submit a photocopy of the passport picture page to Dr. Burgee no later the final payment deadline. Bring a copy of your passport with you and store it in your luggage. In the unlikely event that you lose your passport, the photocopy will greatly expedite replacement processing.
Do I need to speak Spanish?
No, but a little bit will help and show you are interested in the culture. English is widely spoken in Panama City and is spoken by the students, faculty, and administrators at Quality Leadership University (QLU). The front desk personnel at the hotel also speak some English. With that said, it would certainly be to your benefit to be able to speak a few words of Spanish in order to be polite, identify and order food, ask directions, etc. You may want to bring a Spanish phrase book or this free and handy Spanish reference. There are some very good free video lessons at SpanishDict.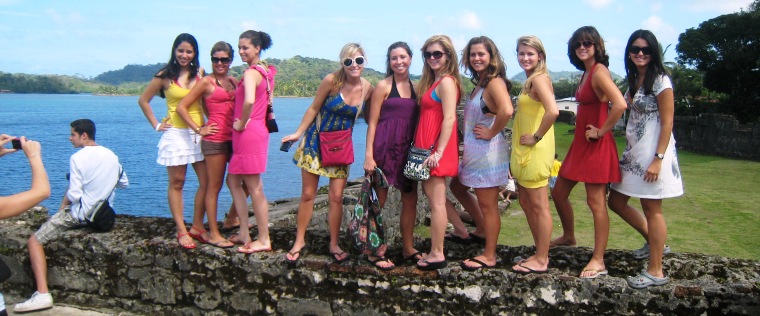 Students pose on the fortifications at Portobelo on the way to the beach at Isle Grande
Do I need a laptop computer?
Yes, it is highly recommended that you bring a laptop computer in order to complete assignments. Any computer with MS Office 2010 (or higher) and an Internet connection will be adequate. Quality Leadership University and the Crowne Plaza Panama Hotel both have wi-fi available (and included in our travel package). QLU has two lab classrooms with computers and you are welcome to use them, provided you can work around the class schedules for the courses that use the rooms. If you do not have a laptop, Stevenson has a limited number of "loaners" available (make request to Dr. Burgee).
Is there a pool at the Crowne Plaza Panama Hotel? Are beaches close by?

There is a nice pool and sundeck at the hotel where you can hangout and get some sun (average high temperature is 87 degrees in the Winter). Beaches are 30-60 minutes away. The group will spend multiple days at the beach!

Are there places in the city to walk and jog for exercise?

Yes. There is a new jogging and cycling path (Cinta Costera) along the bay about five minutes walk from the hotel. Parque Omar (Park) is about two miles from the hotel ($2-4 cab ride) and has a three-mile traffic-free paved loop. The Amador Causeway is about four miles from the hotel ($4-8 cab ride) and provides a beautiful setting for a walk or jog. It has a paved path along the water that runs from the mainland out to a small island.


Students on the beach at San Blas
How much spending money should I bring? Are meals included?
Panama uses the US Dollar as currency and in general things are less expensive than in the United States, particularly outside of Panama City and resort areas. A nice buffet breakfast is included daily at the Crowne Plaza Panama Hotel (where we stay), a quality business-class hotel located just four blocks from campus in a very safe neighborhood. Food and drinks are "cheap" (but high quality and tasty) and you can get by with $5-10 per day for lunch, and $10-20 per day for dinner. Many students "feast" on the free hotel breakfast, eat a light snack for lunch, and then save their spending money for dinner and evening "socializing". There are two excellent large supermarkets where you can get great prices: one is one block from the campus (Supermercado Riba Smith), and the other is three blocks from the hotel (Supermercado REY). There are also the standard fast-food options like McDonalds, KFC, and Subway (but I like the local food better and it's healthier). The fresh fruits at breakfast (oranges, grapefruits, melons, papaya, etc.) are outstanding.
Are Panama City and the surrounding areas safe?
I have been to Panama with students many times and we have never had any problems. As in all large cities, pickpockets are a problem, and there are a few areas in Panama City and Colon that should be avoided. However, we will have local guides and QLU chaperones with us at most times with local knowledge. The areas of El Cangrejo and Bella Vista where the hotel, QLU, and many restaurants are located are considered to be some of the safest sections in Panama City. For excursions, we will visit and stay in areas regarded to be safe. However, when traveling in a foreign country, it is wise to be cognizant of your surroundings at all times. It is not recommended that you go out alone at night and it's best to travel in groups of 4-8 people.
| | |
| --- | --- |
| | |
| | |
| A surfer looks for the perfect wave at Isla Grande | A student partakes in some monkey business! |
Do I need any special medicines, shots, or vaccines? Is the water safe to drink?
On all of my trips to Panama, the students and I have been in Panama City, Colon, the (former) Canal Zone, Isla Grande, and "known-safe" areas around or en route to those areas. These areas are judged to be "safe" from malaria and yellow fever, and the professors and students I traveled with never took any special precautions (other than wearing mosquito spray containing DEET), nor have I, and there have never been any problems. The areas known to sometimes have problems are in eastern Panama, particularly in the Darien Rainforest near Columbia, places where we would never go. However, if you have any immune-system weaknesses or disorders, it may be recommended (check with your doctor) that you get certain vaccines or medicines. The biggest problem students (and professors) encounter are severe sunburns (bring sunscreen), dehydration (all the stores have inexpensive bottled water available), and foot injuries (there are many open drain holes and uneven sidewalks throughout the city). A very few students have gotten diarrhea from drinking tap water outside of Panama City. The water in the Crowne Plaza Panama Hotel, Quality Leadership University, and most of Panama City, is pure and safe and I've never had a problem.
| | |
| --- | --- |
| | |
| | |
| Panama City at Night | Students Playing Games |
What should I wear? What about for the company visits?
Panamanians tend to dress nice and rarely wear shorts (except while exercising or at the beach). Shorts are frowned upon at QLU and it's rare that you'll ever see the Panamanian students wearing them. Jeans and t-shirts are very popular with all age groups and acceptable nearly everywhere. You should bring a light jacket to class and to restaurants. The local establishments love to show off their air conditioning and it may get a bit chilly indoors (but not outdoors). If you want to see how the locals look, check out the video (below) that shows locals getting on the colorful local public buses (diablos rojos) in the late afternoon. With the exception of cultural travel days outside Panama City, or when you are exercising, I would recommend that you avoid the combination of shorts, t-shirt, white tennis shoes, and a baseball cap (which prominently announces you as a Gringo). For the company visits, you should bring a few nice business-casual outfits, but suits and ties are not necessary. Here is how students dressed at company visits during the 2012 Winter Term in Panama and 2014 Winter Term in Panama.
For Web Hosting
Dr. Burgee Recommends: