Dr. Lawrence Burgee earned a Ph.D. in Information Systems from the University of Maryland Baltimore County, and an MBA from Loyola University Maryland. He is currently the Computer Science Department Chair and a Professor of Computer Science in the the School of Liberal Arts & Sciences at Palm Beach Atlantic University. With the move to Computer Science, Dr. Burgee now focuses more on courses and research related to Information Systems, Human-Centered Computing, Website Development, Data Science, and Database Systems. He also teaches Management of Digital Information Systems in the MBA program, Digital Marketing, and additional marketing courses for the Rinker School of Business.
From 2017 to 2021, Dr. Burgee was a Professor of Marketing in the Rinker School of Business, where he taught Integrated Marketing Communication, International Marketing, and Marketing Management in the MBA program, and Principles of Marketing, Marketing Management, International Marketing, Digital Marketing, and Global Business in the undergraduate program. He was the BS Business Administration Program Coordinator from 2018 to 2021. From 2017-2019, he was the faculty advisor to the PBA student chapter of the American Marketing Association. He was also a member of the AACSB Accreditation Team, the University Experiential Learning Committee, and a member of the Quality Enhancement Plan Service-Learning Faculty Implementer Team. In November 2017, he was honored with the "Professorial Medallion" for earning the highest rank in academia. He also has a passion for travel abroad, foreign language study, and conducting business, marketing, and technology-related study tours. He conceptualized, organized, and co-led PBA's and the world's first International Marketing & Franchising European Study Tour to London and Munich in May 2019, with 15 students and visits to 10 organizations. Since 1992, he has conducted 27 study tours with about 700 students to visit more than 160 companies in Europe and Latin America.
From 2014 to 2017, Dr. Burgee served as Dean and Professor in the Division of Business and Information Management at Neumann University. In just three years, he coordinated more than 50 curricular enhancements to degrees in accounting, computer information systems, marketing, sport management, and three new business administration tracks in finance, human resources, and international business. In his first year, he spearheaded the doubling of the Business Advisory Council to nearly 40 members. He then met with BAC small groups divided by discipline to incorporate their industry-based input into the curricular revisions. He worked with faculty and administration colleagues to lead the Division through successful ACBSP reaccreditation. The report from the ACBSP visitation team praised Dr. Burgee for his strong and effective leadership and ability to build bridges across campus through constructive collaborative processes. He won a best paper award on the topic of fostering cultural immersion at the Academy of Business Research Fall 2014 Conference. He also conceptualized, organized, and led Neumann's first International Marketing European Study Tour to London and Berlin in May 2015, with visits to nine companies. In April 2016, Dr. Burgee was inducted into the Delta Mu Delta International Honor Society in recognition of his efforts to improve Neumann's business programs.
From 2009 to 2014, Dr. Burgee served as Chair and Associate Professor in the Department of Information Systems at the Brown School of Business and Leadership at Stevenson University. He led the development of five new business-focused information systems courses and a new track in e-commerce technology. He headed the efforts to integrate business professionalism and leadership theory into the IS degrees, a process known as DeGeeking. He also collaborated with Business Administration and Arts in the formation of a new multidisciplinary digital marketing degree. Enrollment for his department increased from 180 upon his arrival to more than 250 at the time of his departure. This increase of more than 70 students resulted in a cumulative increase in revenues of more than $2.6 million thanks to Dr. Burgee's intense recruiting efforts and the dedication of his outstanding faculty. In 2011, he won the Dean's Award for Outstanding Faculty Student Leadership. In 2014, he received the Dean's Award for Outstanding Scholarship for the DeGeeking "best paper" presented at the 2013 Academy of Business Research Conference. Dr. Burgee was also inducted into the Sigma Beta Delta International Honor Society in Business, Management and Administration, an honor recognizing the seven international study tours he led and co-led while at Stevenson.
Dr. Burgee was an Assistant Professor of e-Business and Technology Management at Towson University from 2003 to 2009, where he taught cutting-edge courses in information systems, e-business, and internet technology. He also taught marketing in the Executive MBA program at University of Lodz Polish-American Management Center in Poland, and taught e-business at Quality Leadership University in Panama. His 2009 co-authored peer-reviewed journal article Social ties and online word of mouth published in Internet Research, has been cited in nearly 800 publications.
From 1999 to 2002, Dr. Burgee was the Executive Director of the Lattanze Center for Executive Studies in Information Technology at Loyola University Maryland. He was the International Business & Marketing European Study Tour Coordinator (for Loyola and American University) from 1992 to 1998 where he developed marketing strategies, established relationships with high-level executives, and arranged for group visits to more than 75 companies in Belgium, Czech Republic, England, France, Germany, Ireland, Italy, and Switzerland. He was also Loyola's American Experience Program Director and was responsible for hosting two-week business, marketing, and cultural integration visits to Baltimore for 20-25 Chilean business executives from the Loyola MBA Program at University Alberto Hurtado in Santiago, Chile. While at Loyola, Dr. Burgee was also an Adjunct Professor taught five different graduate MBA courses and four different undergraduate business courses.
Prior to academia, Dr. Burgee spent 14 years in various Computer and Information Sciences positions including Systems Programmer, Information Technology Analyst, Functional Business Analyst, Disaster Recovery Coordinator, and Project Manager. He began his career as a Mathematician and Computer Scientist at the U.S. Army Ballistic Research Laboratory, and worked with blast dynamics and nuclear weapons simulation, testing, and control systems. After working for the Army, he worked at Allied Irish Bank (First Maryland Division) as a Systems Analyst and supported commercial banking and currency trading environments. He also worked for 10 years at the Baltimore Gas & Electric Company where he spent considerable time at the Calvert Cliffs Nuclear Power Plant ensuring that the plant disaster recovery plan was integrated with the overall corporate business continuity plan.
Dr. Burgee's other interests include marketing, technology, e-commerce, and business continuity consulting (Burgee Global), mountain biking, water sports, trail running, travel abroad, foreign language study, cheering for FC Köln, Arsenal FC, Miami Heat, Philadelphia Flyers, and Florida Gators, and relaxing with family and friends.
Shared Documents:

ACBSP International Conference Cancun 2016 Presentation Slides - PDF
Sample - Study Tour Student Code of Conduct - Word - PDF
Sample - Preparation for Roommate Selection Questionnaire - Word - PDF

Dr. Burgee discusses strategy with Brian Billick, former Head Coach of the Baltimore Ravens, during an Executive MBA Forum; May 2001

Ph.D. graduation with Dr. Anthony F. Norcio, UMBC Professor and Dissertation Advisor; May 2005

Dr. Burgee with Pervez Musharraf, former President of Pakistan; September 2009


Dr. & Mrs. Burgee with
Greg Mortenson, author of
Three Cups of Tea; April 2010



Dr. Burgee tailgates in Miami with

Jarret Johnson

's uncle and mom, and John Burgee (right), before the

Ravens beat the Dolphins

in a playoff victory! January 2009




Dr. Burgee

assists students in a Mobile Technology Classroom in this
Towson University advertisement
(click picture to see full ad)



Innsbruck, Austria: May 1995




Dr. Burgee

with Dr. Ellen Hoadley,
Loyola University Professor;
Merck Pharmaceuticals, Milan, Italy;
European Study Tour: May 1995

Dr. Burgee with Dr. Doris Van Doren,
Loyola Professor and amazing Mentor enjoying Zurich, Switzerland; European Study Tour: May 1998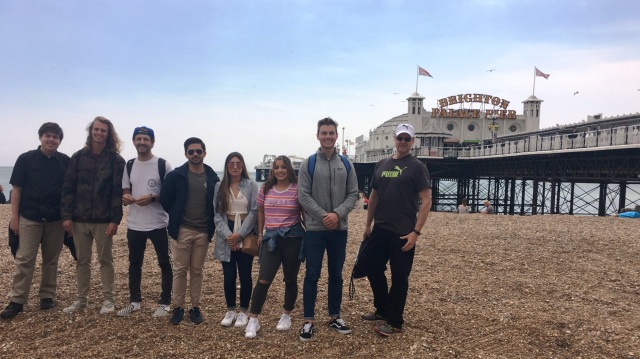 Brighton, England - European Study Tour - 2019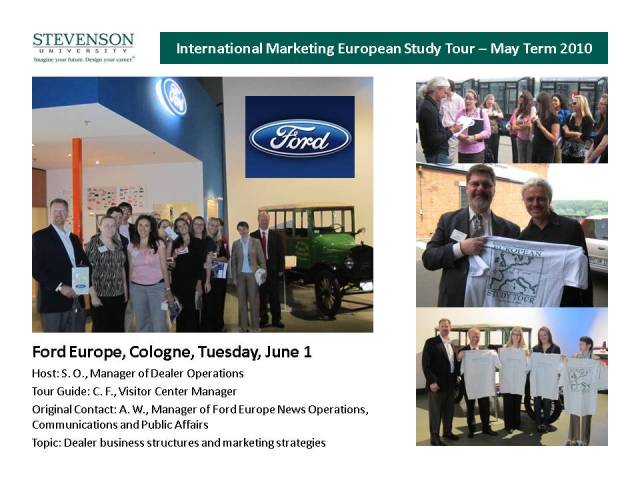 An article about this visit appeared in Ford Europe magazine!
German / English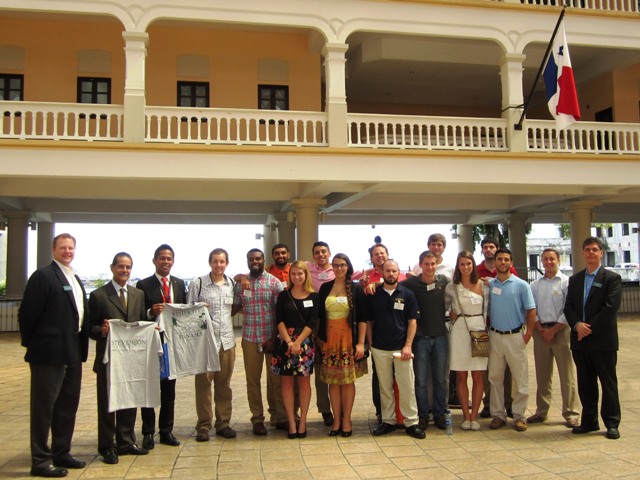 Gift presentation to Secretary Luis Martinez
Bolivar Palace - Winter Term in Panama - 2014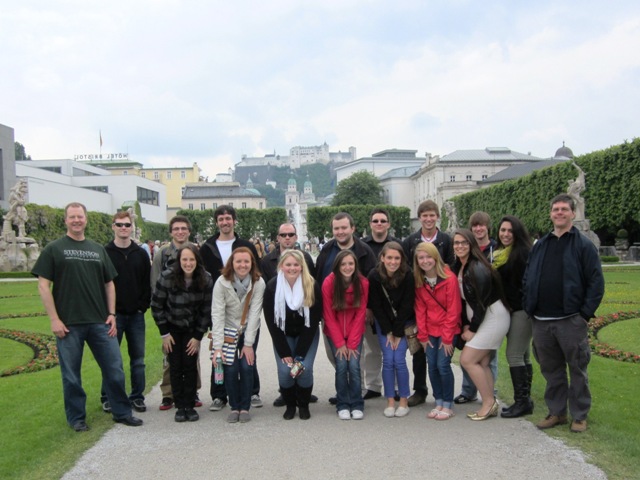 "The Sound of Music" Mirabell Gardens
Salzburg, Austria - European Study Tour - 2013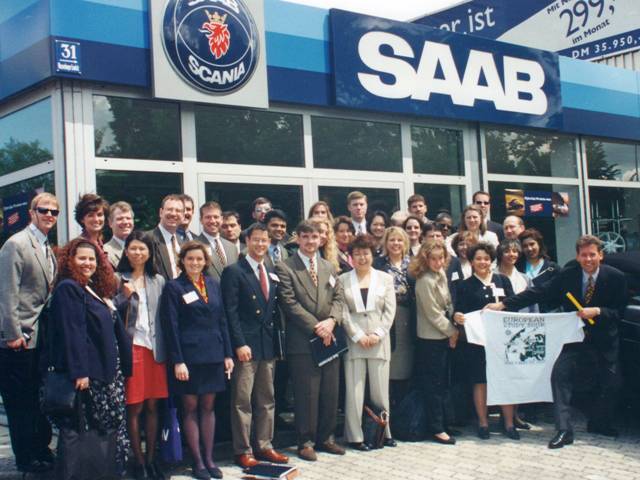 Saab Dealership Franchise Presentation
Munich, Germany - European Study Tour - 1997

American Marketing Association International Collegiate Conference, New Orleans, Louisiana;
Palm Beach Atlantic University, Student Chapter, April 2018
International Study Tours
Click on pictures for full size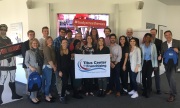 Bodystreet Global Headquarters, Munich, Germany; Palm Beach Atlantic University, May 2019
2019 European Study Tour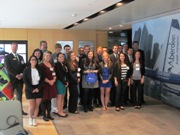 Aberdeen Asset Management, London, England; Neumann University 2015 European Study Tour: May 2015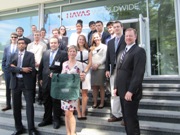 Havas Worldwide, Prague, Czech Republic; Stevenson University 2014 European Study Tour: May 2014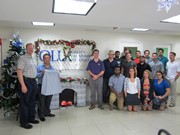 Presentation from President Oscar Leon, Quality Leadership University, Stevenson University 2014 Winter Term in Panama: Jan 2014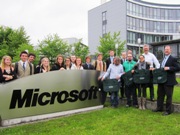 Microsoft Deutschland, Munich, Germany; Stevenson University European Study Tour: May 2013 - Schedule -
Photos: London - Munich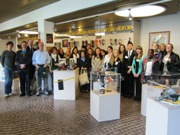 Vibram, Albizzate (Milan), Italy; Stevenson University 2012 European Study Tour: May 2012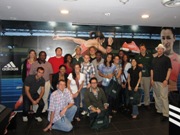 Adidas, Panama City, Panama; Stevenson University 2012 Winter Term in Panama: Jan 2012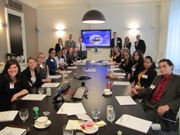 Lockheed Martin UK, London, England; Stevenson University European Study Tour: May 2011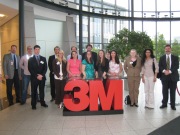 3M Deutschland, Neuss, Germany; Stevenson University 2010 European Study Tour: May 2010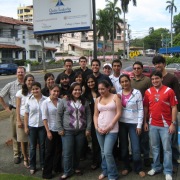 Dr. Burgee with Panamanian e-business students; Quality Leadership University, Panama City, Panama; January 2009; See Jan 2008 class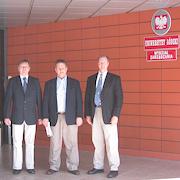 Dr. Burgee with the Executive MBA Director and Program Director, University of Lodz Polish-American Management Center, Lodz, Poland; May 2006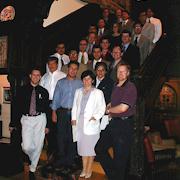 Dr. Burgee with Chilean American Experience group; Loyola MBA students from University Alberto Hurtado, Santiago, Chile; June 2001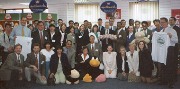 Hallmark UK, Henley-on-Thames (London), England; 1998 Loyola University / American University European Study Tour: May 1998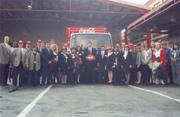 Coca-Cola, Prague, Czech Republic; 1997 Loyola University / American University European Study Tour: May 1997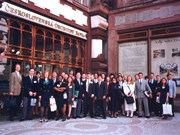 Ceskoslovenska Obchodni Banka, Prague, Czech Republic; 1996 Loyola University / American University European Study Tour: May 1996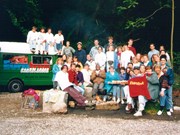 Eurotrek, Zurich, Switzerland; 1995 Loyola University / American University European Study Tour: May 1995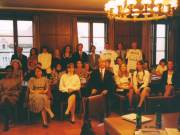 Bavarian Ministry, Munich, Germany;
1994 Loyola University / American University European Study Tour: May 1994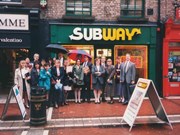 First Subway in Dublin, Ireland; 1993 Loyola University / American University European Study Tour: May 1993
Dr. Burgee on TV
Problems with Obamacare Website, MPT, Oct 25, 2013

Social Media Cautions ..., MPT, Mar. 31, 2011

The Darker Side of Facebook, WBAL-TV, Dec. 5, 2010

US Lags Behind With Internet, WJZ TV, Nov. 1, 2007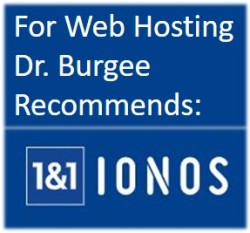 Last Updated: April 26, 2023