London
Organizational Visits
Click on picture for full size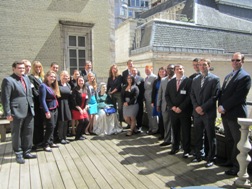 GMR Marketing
May 27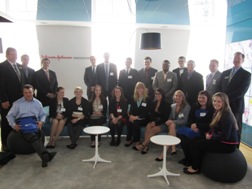 Johnson & Johnson Innovation Centre
May 27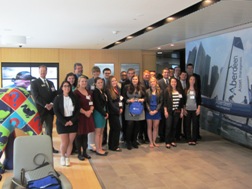 Aberdeen Asset Management
May 28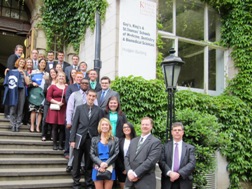 Essentia
May 28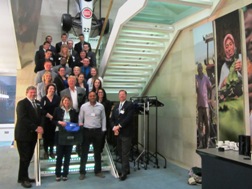 British American Tobacco
May 29


Great times in London!


London Eye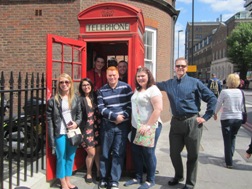 Classic Telephone Booth
@ Historic Kings College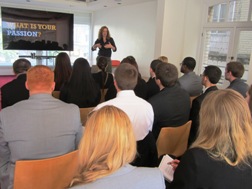 Branding Experience Discussion
@ GMR Marketing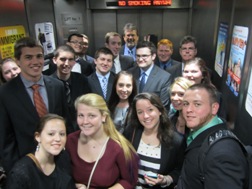 Bonding in Tube Elevator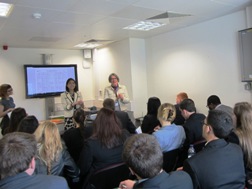 Interactive Lesson @ Essentia
@ Historic Kings College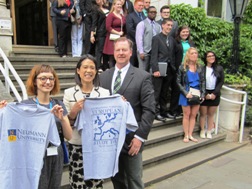 T-Shirts for Essentia Hosts



T-Shirt for Anne Farthing,
Essentia Project Manager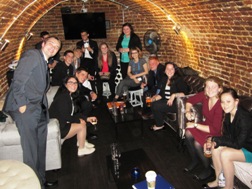 Thomas Guy Club
@ Historic Kings College
Essentia Reception in the Vaults

International Marketing


Course Documents

Schedule - Syllbus

Country Notebook Guidelines

Country Notebook Scoring Rubric

Travel Documents

Checklist - Flyer - Application -
German - Handbook - Contract

NU Article - European Study Tour Brings Students to London and Berlin



Students Testimonials

Gianna Crowe:

The International Marketing trip was an experience that I will cherish forever. It was such a great opportunity and I am so lucky that I got to be a part of it. I made new friends, tried new foods, and got to see so many interesting places that I will keep in my memory forever. The trip was amazing and it opened my mind up to so many different ways of life. It was so awesome to be immersed in other cultures and environments. I now want to travel to more places in the world and learn a new language thanks to this trip!

Michael DiPierro:

After going on the European Tour and learning about International Marketing, I have gained many different cultural values and promotional strategies throughout the various business meetings. It was a great opportunity to get to experience the business world in England and Germany. This is something that I can add onto my resume which could benefit my job opportunities in the future. At first, it was a little difficult to adapt to the culture but once you become familiar with their surroundings, living becomes much simpler. The people that I've met were very friendly and open about their country which made me feel comfortable opening up about America and our different cultural differences. I highly encourage any student to take advantage of a study tour because it is something that you will never regret and will gain many friendships, memories, and adaptations.

Andrew Farrell:

This international marketing class was a great experience for me. Getting the chance to travel while attaining an education was one of my best college decisions. I got a chance to study cultural differences and learn how to apply marketing first hand. This also made me gain respect for not only other cultures, but also our own. After taking this class I want to travel to more countries, because it's such a big world.

Jaleel Johnson:

This study tour has been one of the best things to ever happened to me. It has truly been a blessing. I've learned a lot about myself and what I want out of life. It's opened up my eyes and my understanding of the world around me. It's let me realize what I need to do and what it takes to continue to travel and have opportunities like this one. I can honestly say I've done some growing up and realized that there is more to life than what I'm used to. Thank you again so much Dr. Burgee for this amazing trip. I've changed for the better.

Courtney Kumpf:

You can only learn so much from a textbook inside a classroom, but you can never compare that to the hands on experience you get from studying abroad. Taking an International Marketing class abroad is the best way to apply what you know to what is going on around you. I was able to gain memories and experiences that will carry on throughout my career and last a lifetime. Taking International Marketing in London and Berlin could never be compared to going to a classroom every day for a semester. This was a wonderful experience and I learned much more than I could have ever hoped for.

Christopher Lyons:

Studying abroad in London and Berlin has been the most fascinating and mind opening experience of my life. Studying abroad has shown me a completely new way of life. It was fascinating to see first-hand how foreign countries conduct their daily business. The mixture of structured time and free time was the perfect combination of formal instruction and casual exploration. It is amazing how simple other parts of the world live when compared to the United States. Study abroad has allowed me to step out of my comfort zone and explore new and unfamiliar parts of the world. I recommend that everyone travel and study abroad while pursuing a college degree.

Chelsea Polidoro:

Going on the study tour of London and Berlin was one of the greatest experiences of my life. The classes were excellent and the food exceeded my expectations. The tour changed my life for the better because I was able to see how big the world really is. In the end, I would definitely recommend the study tour to anybody and I can guarantee you will have a great time.


Berlin
Organizational Visits
Click on picture for full size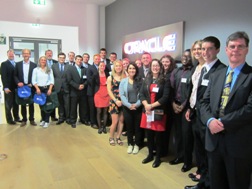 Oracle Germany
June 3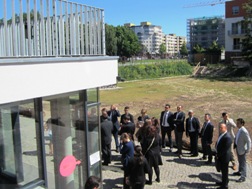 Factory Berlin
June 4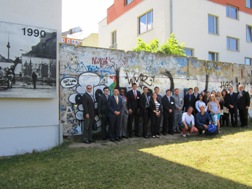 3M New Ventures
June 4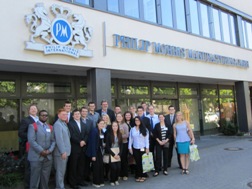 Philip Morris Manufacturing
June 4


Great times in Berlin!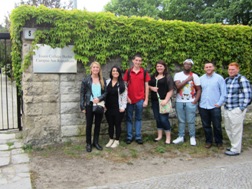 Classes @ Touro College Berlin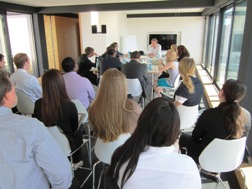 Interactive Discussion with
3M New Ventures @ Factory Berlin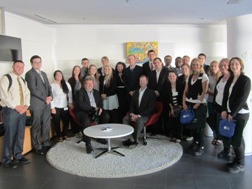 Guided Tour @
Philip Morris Manufacturing